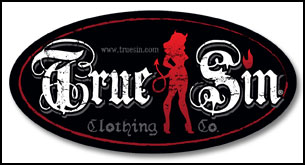 - click image to enlarge -
Vinyl Stickers - Five for $5
2 inches tall by 4 inches wide vinyl True Sin Logo Sticker
You'll get 5 of our stickers in every order! Peal off the backing of our oval shaped logo sticker, and put it on your favorite school folder, skateboard or window of your car. Or if you're really daring, order a bunch and sticker the world with True Sin! We're holding a contest that runs through May 31, 2010 to see who can put our sticker in the most unique place. Take a photo of our sticker where you've stuck it up, and send it to us. We'll choose the most creative, unique or weird location for our sticker, and award the winner with a free True Sin shirt. This lucky fan's favorite model will also be awarded with 50 Bonus Votes!